Langhorne, PA – Vincodo, a leading full-service digital marketing and advertising agency, has just been named among the 2018 Inc. 5000 fastest-growing private companies in the United States. Ranked at #4,933, this is the firm's third-time inclusion on the prestigious list over the past four years.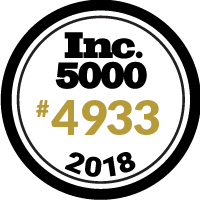 Founded in 2010 by a group of marketing industry veterans and headquartered in Langhorne, Pennsylvania, Vincodo quickly rose to the top of its trade by forging strategic partnerships with top brands, including Travelers Insurance, Mary Baldwin University, Rooms To Go, The LASIK Vision Institute and TLC Laser Eye Centers, Orkin Pest Control, Jus By Julie, Fullbeauty Brands, and others.
Known for its unparalleled expertise in e-commerce, search engine marketing, lead generation and conversion, programmatic display advertising and more, the agency has consistently grown its clients' revenues over the years, which enabled it to grow its own revenues by 59 percent between 2014 and 2017.
"We are both honored and humbled to once again be included Inc.'s list of the fastest-growing companies in America," said Vincodo's CEO Tim Daly. "It's challenging enough to be included on this coveted list once, and even fewer companies have been able to make it twice, because the explosive growth some firms experience in their initial years of operation is often difficult to sustain. The fact that Vincodo was able to achieve this recognition from Inc. three times serves as a testament to the quality of our service and the sustainability of our business model."
Vincodo's Managing Director Tom Alison added: "Our approach to sustainable growth is defined by super servicing and growing the volume of work for our existing clients, rather than by constantly trying to generate new business. We work hard to not only deliver superior results every time, but also to educate our partners about the concept of multi-touch attribution and how it ensures that their marketing investments contribute to the growth of their business."
Much of Vincodo's success is attributed to the fact that, unlike many other agencies, its team is comprised primarily of senior-level marketing experts who work directly with clients without passing work down the chain of command to less experienced employees. Another differentiating factor for the firm lies in its ability to work with both e-commerce and traditional "brick-and-mortar" retail clients, helping them create true multichannel marketing campaigns with attribution to both in-store and online sales.
A Premier Google and Microsoft Partner, Vincodo was also recognized as the Optimizer of the Year at Microsoft's 2017 Bing Agency Awards based on its superior ability to use Bing Ads tools and insights to deliver smart optimization solutions for its clients.
Vincodo's CEO Tim Daly will be formally honored at the 37th Annual Inc. 5000 Conference and Gala held at San Antonio's JW Marriott Resort & Spa on October 17-19, 2018.
To learn more about Vincodo and its placement in the Inc. 5000, please visit: https://www.inc.com/inc5000
About Vincodo
 Vincodo is a boutique digital marketing strategy agency specializing in search engine marketing and optimization, lead generation & conversion (online and offline), programmatic display advertising, social media advertising, e-commerce and merchandise sales, and more. At Vincodo, senior-level experts work hands-on with businesses to develop customized plans that ensure marketing dollars are spent as effectively as possible for optimal return on investment. Vincodo is based in Philadelphia but serves clients nationwide. Learn more at http://www.vincodo.com/.